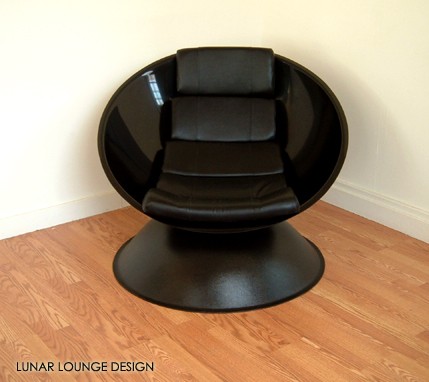 Orbit Lounge Chair
"It's a combination of furniture & architecture."
This design was conceived by using one of the simplest of geometric forms – the globe. Cut into 2 parts, balanced and fixed onto itself resulting in a completely unconventional shaped and very comfortable lounge chair.
The Orbit Lounge chair is a cozy and calm atmosphere, giving you a private space for reading or relaxing. It's design also heightens your multimedia experiences as sounds are captured by the smooth concave seating surface allowing the sound waves to be directed to the occupant enhancing their music or movie watching.
Equally at home next to your comfy leather sofa or your classic Barcelona lounge chair. This will bring that much needed pop to any room you place it in. Also ideal for Your Office, business, home , loft or apartment. Anywhere you want to add a touch of mid century style.
Designers:
J. Sebastian
Materials:
5 section foam cushion
Baron Upholstery Vinyl Fabric
Durable Plastic Construction
Dimensions:
17? deep
46? diameter
36? x 9? globe base
Finishes Available:
Frost White
Midnight Black
Baron Vinyl "Leather Look" Upholstery Fabric