MG-2 Console Cabinet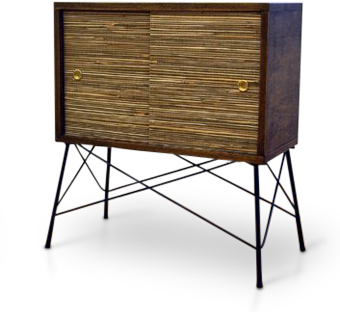 Inspired by the Planner series by Paul McCobb. Our instincts were to design and build a small yet functional cabinet reminiscent of the modern age but with an organic feel.
Constructed from ¾" furniture grade Canadian Maple ply using pocket hole joints which are strong and sturdy. Stained in dark walnut and then protected with multiple coats of a satin polyurethane finish.
The doors are built from .25" hard board adorned with authentic woven grass cloth material. Give it a texture and a great amount of interest to the piece. The brass pulls complete the look and make for for easy opening of the sliding doors.
3 .25″ round rods are used to create a partition in the cabinet to lean books and magazines against, but does not create a visual barrier allowing you to see what is stored on the other side of the cabinet. A unique design detail that compliments the metal legs.
The cross lace legs are fabricated from .50″ round rod with laced .25″ rod pattern that creates strength and interest.
The back panel is .25" hard board and as an option we can provide access port hole(s) if you intend to use this to contain your electronics.
Ideal uses:
* Entrance way console table
* Night stand for next to your bed.
* Electronics and media
* Books and magazines
Dimensions:
• 24" long
• 14" high – cabinet height
• 25" overall height
• 11" depth
Contact us if you would like one built to a specific size or dimension. All aspects of this design can be customized.